With Televisions getting expensive, the projectors market has gone up a lot recently with the introductions of some really cool portable designs and 4K displays. Here are our top five portable projector recommendations: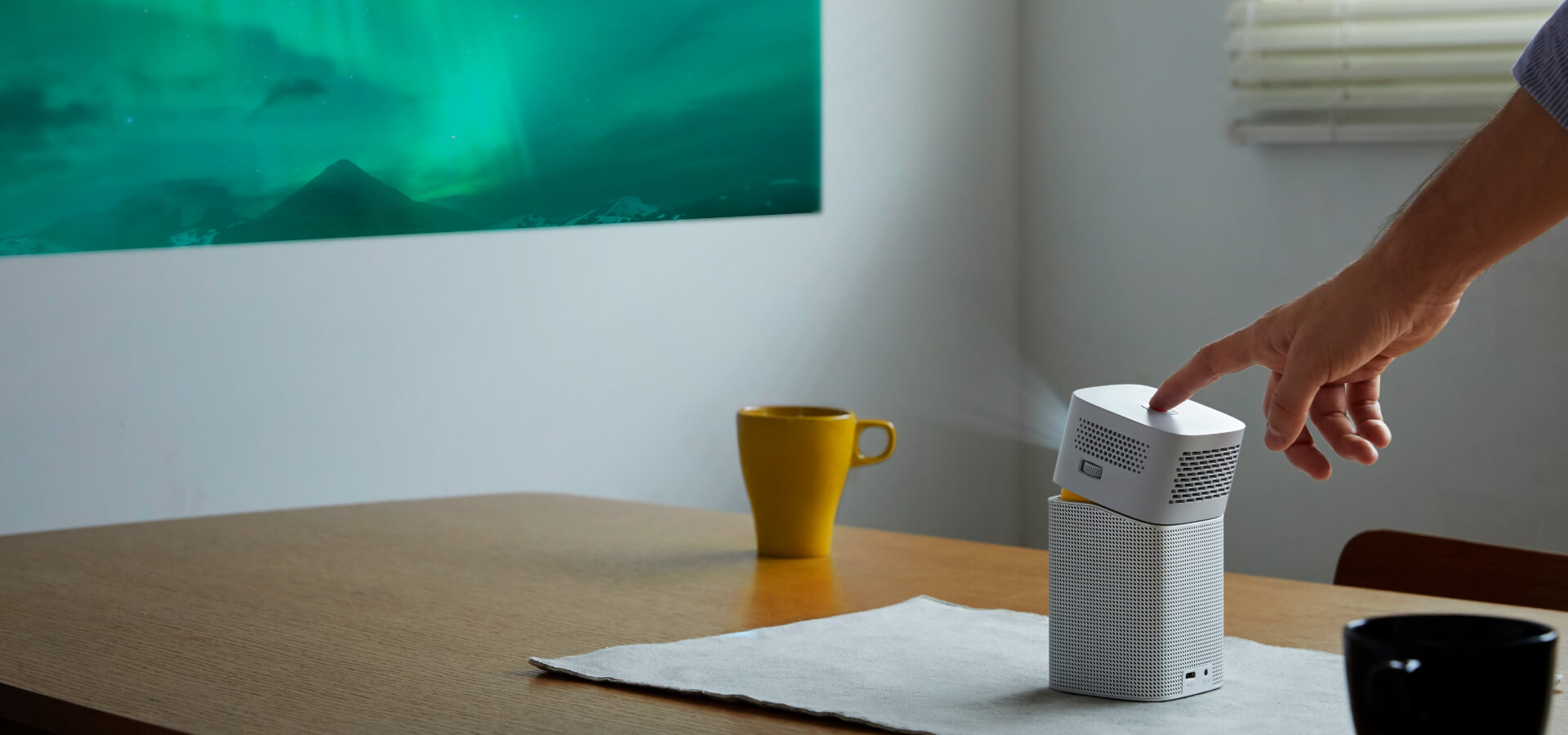 BenQ GV1 Portable LED Projector

If you move around a lot and want to put a screen in different places, BenQ has the perfect solution for you. GV1 comes with a sleek design and great battery life to become your movie binge companion without letting you down.

Pros of BenQ GV1:
Long battery life of about 3 hours which is not an exaggerated figure.
Good software and super easy to use. My wife also knew herself; -)
Easy connectivity to iPhone and PC without cables
Videos can also be transmitted wirelessly without delay
Visually an absolute highlight
Extensive equipment with carrying bag, remote control and power supply
Simple updates via the local WLAN
Noise setting is OK
Cons of BenQ GV1:
The resolution is relatively low. At 1.5 meters distance to the wall (with which you have the screen of a 50″ monitor", the resolution was relatively poor. Individual pixels can also be seen from a distance of 2 meters
The brightness is slightly lower compared to the TVs but works well during the night time.
2. Nebula Apollo, Smart Wi-Fi Pocket Size Projector
The second most preferred portable projector by Indians which is slightly more expensive and comes with a better battery and sound quality to make it worthwhile the extra costs.
Pros of Nebula Apollo:
Good battery capacity – lasts about 4 hours with medium brightness and sound and 2.5-3 hours on full brightness.
Incredible sound – like never before, feels like a speaker is attached even without one being attached.
Auto keystone correction works well the majority of the time without you having to waste much time on it.
Easy and multiple ways to operate with remote, apps and buttons around the projector.
Cons of Nebula Apollo:
Expensive for 200 ANSI lumens at Rs.35,000 while BenQ is available at around 5k less price.
Poor Android Screencast could be slightly disappointing sometimes as the display won't look as great as it should look but if you're playing content directly from other sources, you will be just fine.
These two are the hands-down best choices which are made by most of the users but if you're looking for a cheaper segment, there are two more options to choose from:
3. Egate i9 HD
Full HD 1080p
VGA, AV, HDMI, SD Card, USB Ports
180 ANSI
Goes upto 120″ display
Costs around Rs.7,990 on Amazon
4. PLAY Full HD LED 3000 Lumens Home Theater Projector
5. WZATCO M6 HD with Full HD 1080 Support
The cheaper the prices gets, the more you will have to compromise on the quality and features of the products. Like though E-Gate, Play Full HD and Wzatco M6 work great, they lack the portability feature and always need to be connected to power to display the picture.
While the BenQ GV1 and Nebula Apollo both come with great battery lives and can be moved anywhere from the living room to the terrace to your office too.
So, what's the final choice? Well, we have to give it to the BenQ GV1 this time because we've seen it standby everything for several months and it still works great.